Company events
Teambuilding, staff events, education or kick-offs – at Vattenhallen, you can get new inspiration, promote creativity and find challenges for your staff and business partners. If requested we arrange activities and shows.
We customise your visit according to your needs and wishes!

Prices for renting
Hole day
Per hour day
Evening
Per hour evening
08.00-17.00
08.00-17.00
17.00-23.00
17.00-23.00
Experiment hall
10000 sek
2000 sek/h
15000 sek
3000 sek/h
Lecture room*
3500 sek
1000 sek/h
5000 sek
1500 sek/h
Orange room*
2500 sek
500 sek/h
4000 sek
1000 sek/h
Green room*
2500 sek
500 sek/h
4000 sek
1000 sek/h
* Fruit and sparkling water is included in the price.
You supply the food and drink. If you wish, we can provide help with ordering catering.
A fridge, freezer and coffee-maker are available for use.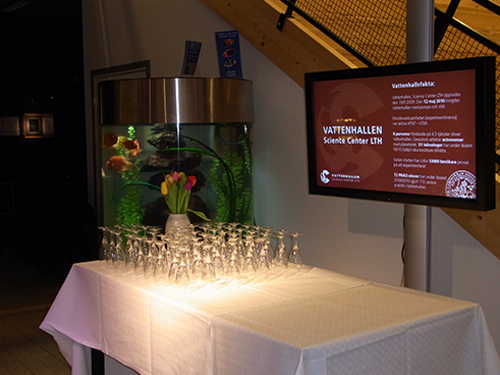 PENTATHLON/HEPTATHLON and SHOWS
It is also possible to order a pentathlon/heptathlon or a shows (brain-, chemistry-, sound- or quantum-show) for your visit. These events take about 1 hour. On requested shows can be held in English.
Price/show: 4000 sek
Price Quantumshow: 5500 sek
Planetarium show: 1200 sek

Following the Swedish Government's recommendations regarding COVID-19 we have reduced the number of visitors who can be inside the Planetarium. The maximum number of visitors to the Planetarium, at the same time, is 8 adults (or 12 school children.
The planetarium has room for one manual or electric-powered wheelchair. If you need more room for wheelchairs or permobil, please contact us.
Astronomers from Lund Observatory run the shows at the Planetarium.
Please note: the researchers who present the shows may be otherwise engaged on the date you have chosen!

Other activities that can be booked:
Pentathlon/Heptathlon: 1-10 participants 1500 sek | 11-20 participants 2500 sek | 21-40 participants 4500 sek | 41-80 participants 8000 sek
Guided tour of the Experiment Hall - an opportunity to try all our interactive experiments in 2 hours.
Note! only after 17.00.
Price: from 6000 kr.
Guided tour of the Digestive system - an interactive walk through the body's digestive system, to understand how important the food is for our health.
Price: 1200 kr

Would you like us to come to your company event, read more about our outreach ExperimentExpressen (read under School).
All prices on this page is excluded VAT.
To submit a booking request to Vattenhallen, fill in and send the email form. Please note! that the visit is not booked until you have received a booking confirmation from us.
---